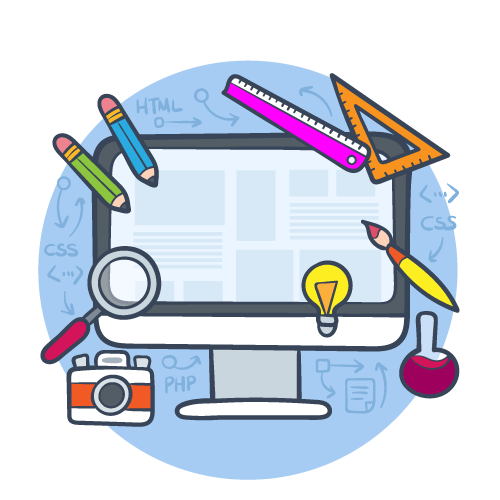 Our mission is to deliver high quality online marketing services for small businesses. It is extremely beneficial for small businesses to have a professional website in order to properly capture the online market share. With our experienced and dedicated team of designers, writers, developers, and social media managers, small business owners can enjoy a beautiful website stress-free. We offer our clients quick turnaround at affordable prices. Our clients can create a website with confidence and ease.
Sitekick always includes the following services in all website packages:
ON-PAGE SEO
Nothing beats having a good Search Engine Optimized Website (SEO) this allows your website to rank as high as possible for popular keyword searches when your potential customers are searching the web.
Responsive Design
Design once and make it work on all modern devices, responsive websites are modern easy to maintain and more affordable
Super Fast Load Times
Loading time is a major contributing factor to page abandonment. The average user has no patience for a page that takes too long to load, and justifiably so.
Organic Traffic - Increase
Average Visit Duration - Increase
Pages Per Session - Increase
Our professional team offers website building on all of the web's most popular platforms.
Wix
Wix is an easy-to-use drag and drop website builder. With Wix, our designers can arrange you a custom design, and you can then easily take over and edit your content.
Shopify
Shopify is the perfect e-commerce website platform for small businesses to build an online storefront. Shopify specializes in its powerful management tools and world-class apps. With Shopify, your company can grow from a small retail business into an e-commerce empire.
Wordpress
Wordpress is by far the most popular content management and publishing platform. Wordpress is unique in that it has an easy to use dashboard which allows you to manage all your online content in one place. Wordpress also offers much versatility in website building. With Wordpress, our team can build you custom informational websites, e-commerce websites, and even sophisticated systems, all built around your company's needs.
Custom
A Sitekick custom website will allow your business to be customized around your every business need, built from the ground up. Our strong development team won't be challenged by every desire included in your vision to build a dream website application.